Photos from Clarecraft Discworld Event 1999
I scanned these images from printed photographs at 300 dpi, or higher where I decided to crop them. I then scaled them down by a factor of 2 (to an area of about 500,000 pixels each) and processed them to correct flaws and in some cases to enhance the important details. These rather oversized `thumbnails', linking to those images, are scaled down again by a factor of 4. I did all the image processing with the Gimp program.
The paper these were printed on and scanned from had a slight red tinge to it. I've tried to correct this, but may not have a done a good job on all the images. The ambient light was quite reddish in the late evenings, so it's difficult to tell.
The names I've used here are mostly the names used on L-Space IRC or on the alt.fan.pratchett newsgroup. Some of them happen to be real names too.
31st July
Morning
Gideon, Johanna and Warwick get tooled up; Tap looks on, glad that they're not after him.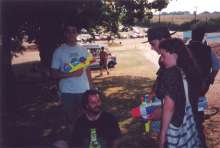 I've increased the brightness of the darker parts of the picture in this and many other photos.
Mole proves that he is Enrico Basilica, with a little help from a costume.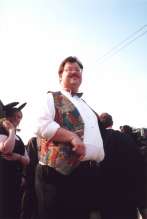 I hope that the overhead cables don't have any Omen-like significance.
Afternoon
Dog writes a filk, or is it a play?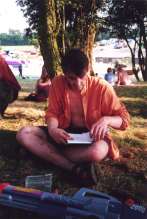 Melusine and Doc try out `bungie-running'.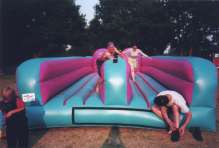 This is very silly.
Doc and Dog try sumo-wrestling with the aid of a lot of padding.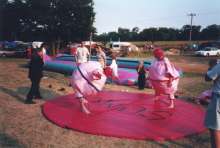 This could be even sillier. Behind them you can see Ponder, Gideon and Melusine.
Mole loses his cabbage duel.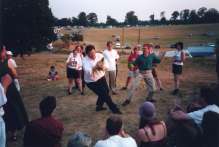 In the background you can see Janice, Homicide and Thomas.
Roadrunner (Michael Grant) duels with Tachyon.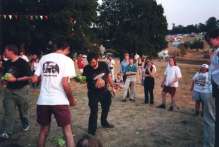 To their left you can see Murky organising things. Behind and to the right of the picture is Homicide.
Gideon duels with Homicide.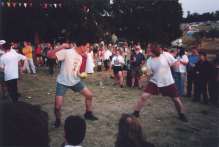 Behind and between them you can see Janice.
Roadrunner wins a duel with his trademark upwards thrust.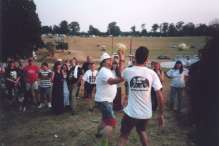 Look, there's Janice again!
Evening
Doc leads singing (or wailing?) afpers on the guitar.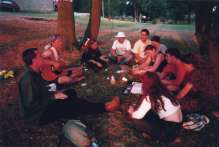 Around the circle, from the left, you can see AfPhantom, Doc, Ponder, someone whose name I am embarrassed to have forgotten, Gideon, Melusine(?), (the one true) Kat, Dog, Johanna and Olivia.
I've brightened this a bit. I think I need to redo the colour correction, though.
Peter shows his mothering instincts.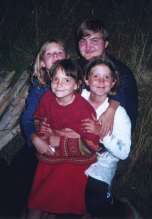 The children are Olivia's and Kayla's daughters.
Unfortunately this picture is spoilt a little by red eyes. If I knew what all the real eye colours should be, I would paint them in, but I don't.
1st August
Morning
Dog, Doc, Gideon and Warwick act out the carriage scene from Soul Music.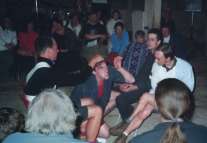 Dog is playing the librarian, in case it's not obvious, while Warwick is playing the bursar.
I've really cheated here. The flash illuminated the heads and shoulders of the two people in front of me (I think the one on the right was Labrat), drawing attention away from the actors. I've drastically reduced the brightness of these heads, and brightened the rest of the picture.
People sitting around under Doc's open tent.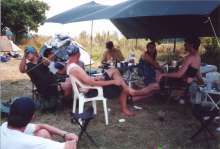 Doc's tent provided much-needed shade and a meeting place for a large number of a.f.p's Old Farts. I don't know who the person sitting on the grass is. From left to right you can see Darren, Gideon, Doc, Adrian, Johanna and Dog.
Afternoon
Gid takes his turn to lead singing - about wanking.


From left to right you can see half of Darren, Dog, Janice Doc, Jester, Gid, someone I can't identify, Tap and possibly George.
Dog shows that he could have worked as a village idiot.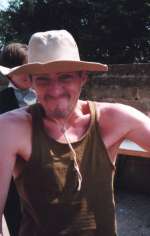 Another big cheat. I had to take this photo quickly before Dog avoided this embarrassment. As a result it was poorly framed and exposed. I've brightened Dog's face considerably, and darkened Thomas (who you can see passing behind him). Sorry Thomas, but you were distracting attention!
Barry proves that he is Keanu Reeves.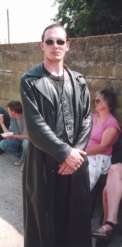 I don't know how Barry can wear these clothes in the middle of summer. Nattie claims that he actually looks more like John Travolta, but I'm not convinced.
I've blurred the background to keep your attention on Barry. The depth of field of many of these photos is really too high.
Terry Pratchett tests an ice-cream offered him by the organisers.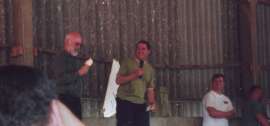 `I like Mr Whippy,' he said, in a voice that left it open to question whether he was referring to a purveyor of such foods.
I've darkened the head and arm appearing in the corner of the picture, and brightened the rest of the picture.
Stephen Briggs defeats the champion of the all-comers cabbage-duelling competition.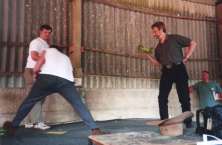 Jules, Peter, Suzi and Gid perform their entry for the filking competition.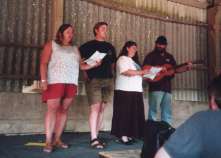 Dog and Doc perform their entry for the filking competition.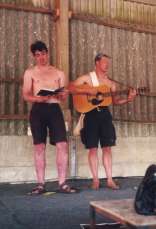 This song, Landfill Down in Woolpit, sung to the tune of Hotel California, was judged the winner by far (on the basis of length of applause).
---
These photos record various people doing odd things for charity. Each successive £200 raised triggered one of these five volunteers to do their thing. This raised £500 for each of Amnesty International and the Orang-Utan Foundation. I've paid a donation for the right to take and display these photos on the web.
Peter gets his legs waxed by Olivia.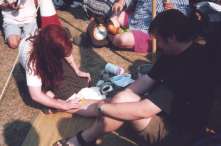 Peter reacts to the hair removal by singing briefly.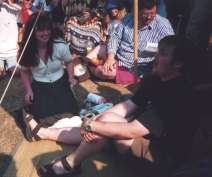 Spirit cuts Barry's pony-tail off.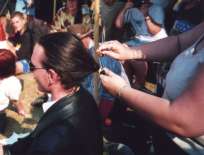 I've blurred the rather cluttered background.
AfPhantom gets the waxing treatment too.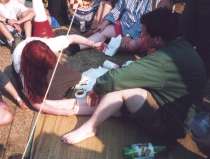 Peter lends a hand in AfPhantom's waxing.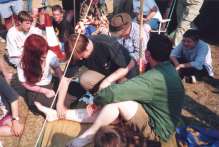 Spirit tidies up the ragged ends of Barry's hair.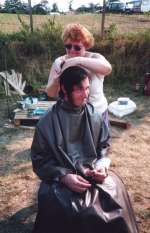 Gid shows off half a head of hair (the rest came off later).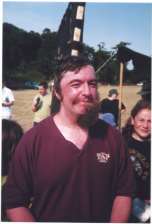 I've blurred the background. Get out of the picture, Ponder! I forgot to crop the edges of this. I'll fix that later.
ccooke wears the biggest dress in the world (well almost).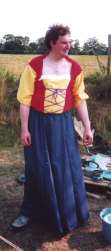 george and ccooke inspect Gid's newly-shaven face.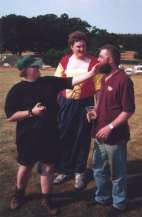 Notice that george is holding on to Barry's pony-tail, which she took away and kept. I'm sure she's going to try casting spells on him.
---
Me, with plaited hair.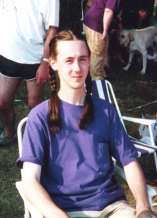 This was all Nattie's idea, carried out by Spirit.
---
Ben Hutchings Last modified: Sat Mar 11 22:19:45 GMT 2000