Photos from my stay with Robert Vervoordt, September 1999
I scanned these images from printed photographs at 300 dpi, or higher where I decided to crop them. I then scaled them down by a factor of 2 (to an area of about 500,000 pixels each) and processed them to correct flaws and in some cases to enhance the important details. These rather oversized `thumbnails', linking to those images, are scaled down again by a factor of 4. I did all the image processing with the Gimp program.
5th September
The upstairs room in Robert's house.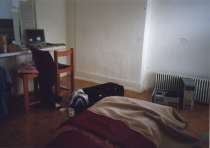 This is where I slept, and where I attempted to make some incomplete computers work properly.
The lens wasn't very clean when I took this first picture. I shall have to find out how to remove those marks from the image.
The computer now known as www.jms.org recompiling its kernel in the basement.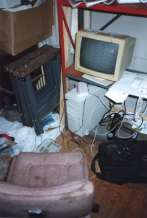 The kernel supplied by LinuxPPC.org for use on this machine included drivers for Mac-like hardware, which weren't very suitable for this PC-like computer. When I built my own kernels, they would crash at boot time. Eventually I found and fixed some stupid bugs in the SCSI driver, and made it work.
15th September
The outside of Robert's house, with his car in front.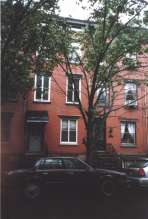 This was a good day, as far as parking went. Robert often has to park several blocks away.
I've brightened this picture slightly.
16th September
The computer now known as www.jms.org, ready to be moved to its current home.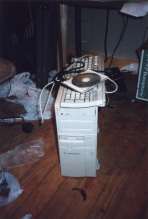 The day I did the installation just happened to be the day that the remnants of Hurricane Floyd dumped six inches of water on New Jersey. I had to cover the computer with my coat and dash to Robert's car, then dash out to the door of the ISP when we got there.
18th September
The landing on the second floor of Robert's house.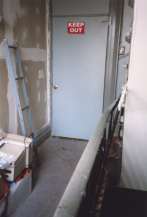 That's the first floor in British terms. I'm not sure what the point of this photo was.
The view down Bloomfield Street from outside Robert's house.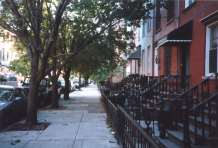 Robert and me at Newark Airport.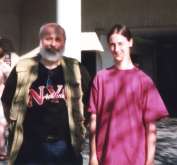 This was a pretty poor location, and the photo was taken by a random person who happened to be around. It's still not too bad.
My T-shirt really should not look pink. Never mind.
---
Ben Hutchings Last modified: Sat Oct 9 02:15:33 BST 1999