Photos from New York in September 1999
I scanned these images from printed photographs at 300 dpi, or higher where I decided to crop them. I then scaled them down by a factor of 2 (to an area of about 500,000 pixels each) and processed them to correct flaws and in some cases to enhance the important details. These rather oversized `thumbnails', linking to those images, are scaled down again by a factor of 4. I did all the image processing with the Gimp program.
6th September (Labor Day)
The West Indian American Carnival in Brooklyn.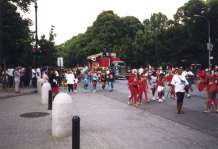 More of the Carnival.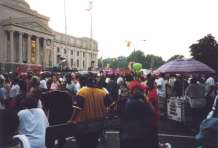 7th September
Union Square Park, Manhattan.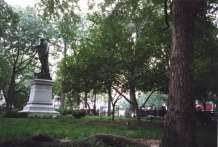 More of Union Square Park.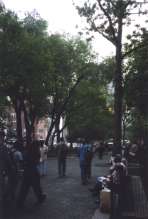 LXNY people at Kaplan's Restaurant.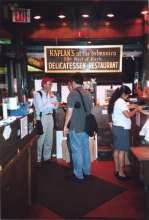 I was invited to go along to a special AMUSE (AMiga USErs group) meeting together with the LXNY (LinuX New York) user group, being addressed by one of its more famous members, Bob Young of Red Hat. After the meeting, many people moved on to this restaurant. This photo shows Young talking with people working on a TV documentary about the growth of Linux.
More LXNY people at Kaplan's.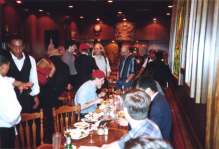 These were a nice bunch of people who I had never heard of before and probably will never meet again. Sadly, I can't remember any names, except Jay Salzenburg, which I probably haven't spelt correctly.
8th September
Trees in Central Park.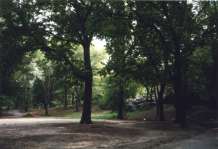 More trees in Central Park.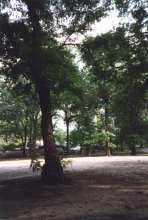 A fountain in Central Park.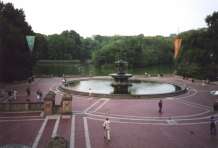 The fountain, close up.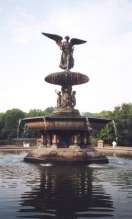 The Lake in Central Park.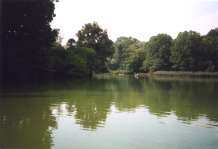 Really, it's just called The Lake. Americans aren't very good at inventing names for places.
The Reservoir in Central Park.



See what I mean?
14th September
The twin towers of the World Trade Centre stretching into the sky.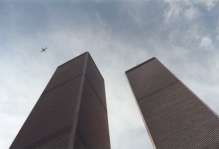 The twin towers, from a new angle.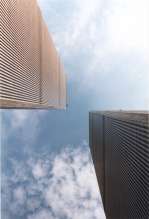 Sculpture beneath the WTC.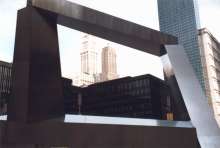 Ground floor windows of the WTC.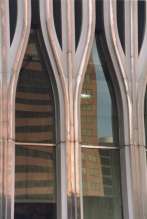 The Statue of Liberty, seen from Battery Park.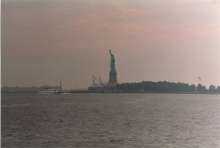 Gulls at Battery Park.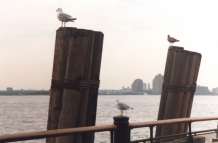 At the time, I thought I saw an interesting pattern here, which would demonstrate natural repetition in perspective. I think I was trying to be too clever.
Castle Clinton, 19th century cannon placement.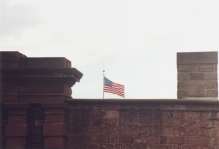 Note the historical flag with only around 30 stars.
I've brightened this picture quite a lot.
Gate of Castle Clinton.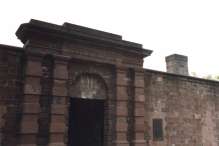 Side of Castle Clinton, with cannon windows.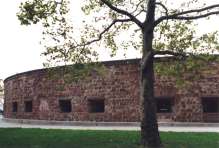 The United Nations' own flagpole at the UN headquarters.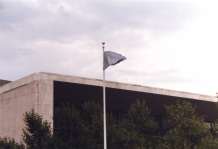 The lines of national flags in front of the UN HQ.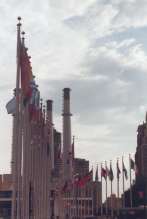 People going back and forth at UN HQ.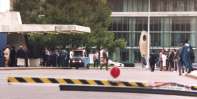 To the right are representatives of the media (I think).
16th September
Giorgio Gomelsky, president of the Jay Miner Society.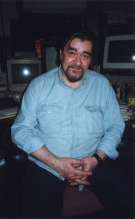 Logically, this belongs with the photos from staying with Robert, but I won't be bound by logic.
17th September
Sara D Roosevelt Parkway.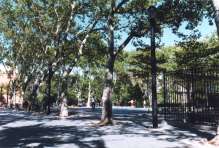 This was taken the day after the remnants of Hurricane Floyd passed through New York and New Jersey. As a result, there are quite a few fallen leaves. This is the beginning of autumn.
Madison Square Park.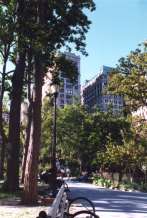 Another bit of Madison Square Park.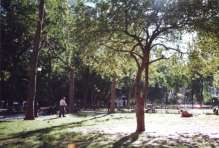 There's not actually all that much to this park. This and the previous picture show you almost everything.
The famous curves of the Guggenheim Museum.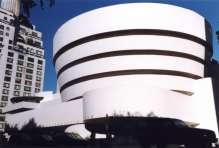 To get this all in, I had to lie back on the pavement (sidewalk).
The Guggenheim Museum from another angle.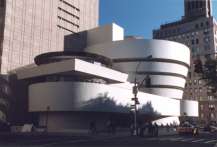 This unconventional view puts the museum in context. Perhaps this makes its shape even more striking.
I did take some photos inside the Guggenheim Museum, but apparently this is an infringement of its copyrights. Therefore I won't include those photos here.
The Metropolitan Museum of Art.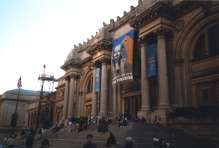 This museum is huge and maze-like, containing art from all over the world and a time span of thousands of years. I visited only a few sections.
The following photos come from the Japanese collection at the Metropolitan Museum of Art. Like much of the museum's exhibits, this is very dimly lit. Even though I was using ISO 400 film, I had to to use exposures of 1/4 or 1/8 second at f2.8 - with no tripod! I'm pleased to have got any useful results at all in these conditions.
Sudden Shower on the Great Bridge by Utagawa Hiroshige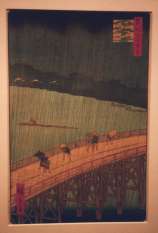 This is a polychrome woodblock print.
I've sharpened this a bit.
Man's formal jacket (haori)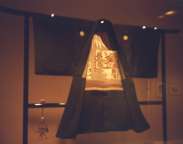 This was made of dye-patterned and painted silk by an unknown 19th century artist. There is another artifact whose name I forgot to record hanging on the lower rail.
I've sharpened the painted details in an attempt to undo the poor focus, with some success.
Paraphernalia for burning incense.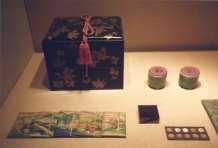 The picture shows decorated wrappers for incense, a chopping block, small burners, and a box for storing thse. These are of unknown artistry and date from the 19th century.
Right half of West Lake by Kujumi Morikage.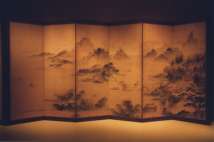 This is composed of ink and light colour on paper. Unfortunately my picture of the left half was not exposed properly.
Detail from funeral scene.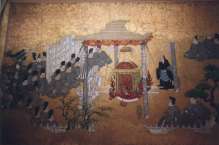 This shows a public cremation. It is composed of ink, mineral colours, gold and silver foil on paper. The artist was from the Tosa school of the 17th century.
Amida Nyurai (Lord of the Western Paradise).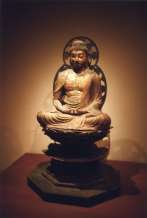 This is composed of wood with lacquer and cut-gold. This dates from the 12th or 13th century, and is of unknown artistry.
I've sharpened the statue a little.
Eleven-headed Kannon (a bodhisattva)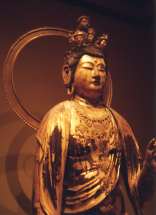 This is composed of wood with lacquer and gold leaf. It dates from the 13th or 14th century, and is of unknown artistry
I've sharpened the statue a little.
---
Ben Hutchings Last modified: Sat Oct 9 02:59:08 BST 1999