Photos from a.f.p Plymouth meet, August 2000
19th August
These thumbnails and descriptions link to JPEG images averaging about 60 Kbytes, with around 800 x 600 pixels (4 times the height and width of the thumbnails).
The names I've used here are mostly the names used on L-Space IRC or on the alt.fan.pratchett newsgroup. Some of them happen to be real names too. People are listed in left-to-right order in the foreground of the picture.
I took the night train to Plymouth, arriving at about 5 am feeling rather sleepy. So I hung around, and phoned Nattie (yeah, *vom*), and read, and eventually managed to phone Corinne, then got into Thom's flat so I could get some more sleep.
Looking west at sunrise.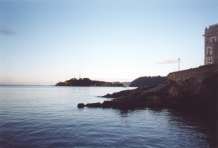 This is on the Hoe, just down from Thom's house.
Looking east at sunrise.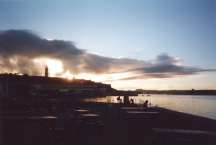 From same place.
A pause outside Thom's door before going to the cinema. Kincaid, Corinne, Rachel, and Thom.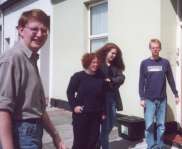 A pause in front of the swinging bridge on the way back.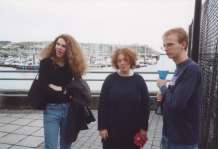 Cluster around one of The Onion books. Corinne, Pia, Eric, Miq.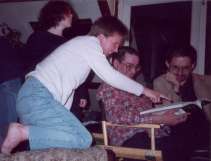 Rachel and Eric competing intensely, or maybe just trying to avoid crashing, in Wipeout 3.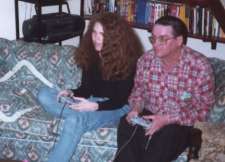 20th August
The view from Thom's 3rd floor balcony - and the backs of people's heads.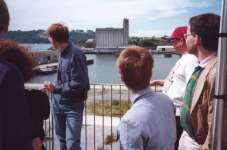 Thom, Corinne, Kincaid, Pia, Eric and Miq, in case you didn't recognise them yet. Now where was Sandra hiding?
Waiting for the ferry over the river.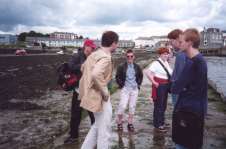 Eric, Miq, Pia, Sandra (at last), Kincaid and Thom.
Pia leaves half her cream tea to Miq and Kincaid.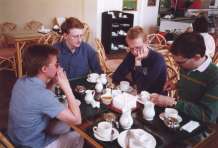 By rejecting the food of the gods, Pia just proves herself a barbarian.
Pia up a tree.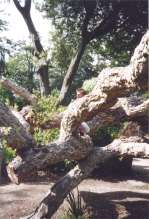 ---
Ben Hutchings Last modified: Tue Sep 5 00:32:35 BST 2000