California, March 2001
San Diego
Nattie reading something on my Palm


Nattie and her friend Bridget at the ice rink


Berkeley
Nattie on Berkeley pier


There's supposed to be a photo taken off the end of Berkeley pier here, but Nattie's borrowed it so I can't scan it.
Vacation in the Napa Valley
Nattie with bicycle



We stopped for lunch by the side of the road during a cycle ride that took most of the day and damn' near killed us.
The valley itself



I should have had a colour film for this. Oh well.
A large tree



This is the tree we had lunch under. Nattie is just barely visible at the foot of the tree.
Back in San Francisco
Tom and Nattie



Taken near Union Square on my Pentax Spotmatic immediately after I got it back from being repaired.
Night lights on Nob Hill



Taken from the balcony of the apartment I was in.
Nattie standing against a wall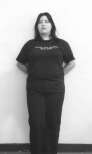 This was at one end of the balcony.
Nattie making herself comfortable


A strikingly-shaped church


The dome of City Hall

Fog across Nob Hill


---
Ben Hutchings Last modified: Tue Dec 4 01:28:20 GMT 2001