Living in San Francisco, May 2001
These are all taken from or on the balcony of the apartment I was living in.
Night lights
Crossing at night



This is the intersection between California and Van Ness. Unfortunately it seems that the camera moved during the exposure, not just the passing cars.
Van Ness at night


The Roundpeg/Roundpoint barbecue
Marshal Lane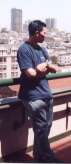 Various people


Rebecca Lakin and a woman whose name I have forgotten, to my embarrassment


---
Ben Hutchings Last modified: Tue Dec 4 01:28:52 GMT 2001