Whosercon, Toronto, 2001
It's all about improv. For further obfusc-explanation, see the official Whosercon pages.
Emile and Nattie play some kind of game


Nattie and 'Frin play Ask Dr Expert



The man on the left was giving us instruction in improv.
Fancong with pool cues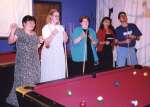 Or 'dancing' as normal people would spell it.
Girls showing their legs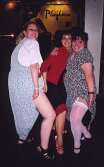 Downtown Toronto



This was the view from the window of the room I stayed in at Ryerson Polytechnic, host to WhoserCon.
The purple shirt cult celebrates Canada Day


A game involving a date between two groups of three


The mural at Second City comedy club


The CN Tower



Canada's Really Big - and to prove it, they built the tallest phallic symbol in the world!
---
Ben Hutchings Last modified: Tue Dec 4 01:46:49 GMT 2001